June 7th, 2008 Posted in
2008 season
,
Jeremy Bonderman
Man oh man, things just are not going right this season for the Tigers.  Sure, the losing has been tough, but a lot of guys aren't even getting a chance to turn things around.  Go ahead and add Jeremy Bonderman to that group.
Bonderman is likely out for the season after having surgery on his shoulder to get rid of a blood clot.  The injury is very similar to what put Kenny Rogers out most of last season.  This is a real shame for Bonderman and the Tigers has he has been one of the better pitchers on a pretty sub-par staff this season.  Bonderman is 3-4 on the year with a respectable ERA and strikeout total.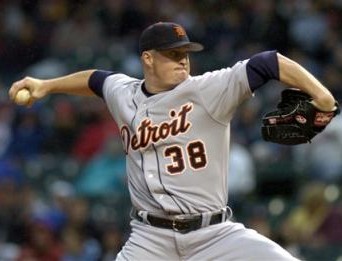 The silver lining here is that it is not career threatening.  Bonderman should be good to go by spring training and the 2009 season.  This isn't a ligament or muscle issues that can end careers.  So that's good news.  Bonderman is also going to be getting an extended breather.  The young guy has piled on some serious innings over the past five years and had to be shut down last year because he appeared to be worn out.
Also, I'm not doctor, but I wonder how much this injury had to do with his walk rate this season?  He was more wild than ever this season, the injury may help explain a few things.
The injury also means that Armando Galarraga will probably be in the rotation for the rest of the season, I've got no complaints there.