December 4th, 2007 Posted in
Andrew Miller
,
Cameron Maybin
,
Dontrelle Willis
,
Miguel Cabrera
Here's the deal in it's entirety according to the Detroit Free Press:
Tigers Get:
Marlins Get:
Certainly the Tigers are giving up a TON to bring these two guys to the Motor City. I suspect there will be some out there amongst Tiger fans that will say the Tigers gave up way too much and are hurting their future for more immediate gratification. I say this to you: "How many young prospects turn out to be as good they project?" This is a topic I will cover on this site as soon as the Tigers slow down enough with all of their moves. Sure the Tigers are giving up six young players who could end up being good, even great. However, not all of them will. Miller, Maybin, de la Cruz, and Rabelo have played in the big leagues but have not proven a thing on that level yet.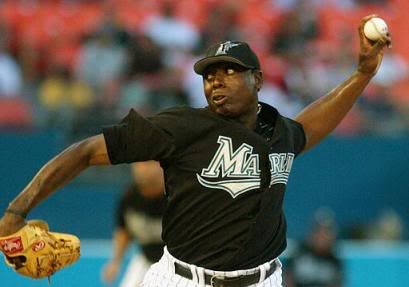 Andrew miller is 5-6 in his career with an ERA of 5.69.
Maybin appeared in 24 MLB games and hit .143 with 1 HR. He spent 83 games at A Lakeland where he hit .304 with 10 HR and 25 SB.
de la Cruz threw 6.2 innings and had an ERA of 6.75 with the Tigers. Midway through the year he was converted into a reliever. At AAA Toledo he went 3-0 with an ERA of 3.52.
Dallas Trahern is a 22 year old starting pitcher who spent all but one start last year at AA Erie. Over 26 starts he went 12-6 with an ERA of 3.87.
Burke Badenhop is also a pitcher. He spent most of last year a A Lakeland. In 23 starts he was 10-6 with an ERA of 3.13 he will be 25 in February.
Mike Rabelo was the primary backup to Pudge last year at catcher. Rabelo, who will be 28 in January hit .256 with 1 HR in 168 at bats.
The main point here is that the Tigers are giving up a lot potential for some serious proven talent.
Onto the talent. As I wrote earlier, I think one of the main criticisms of this trade will be that the Tigers gave up too many talent young players. However, they are getting two very talented YOUNG players in return. Here are the birth dates for the players involved in this trade from youngest to oldest (New Tigers will be in bold):
Cameron Maybin 4/4/1987
Dallas Trahern 11/29/1985
Andrew Miller 5/21/1985
Euglio de la Cruz 3/12/1984
Miguel Cabrera 4/18/1983
Burke Badenhop 2/8/1983
Dontrelle Willis 1/12/1982
Mike Rabelo 1/17/1980
The two players the Tigers got in the trade are currently 24 and 25 years old and they
have both already appeared in MULTIPLE All Star games. Willis' numbers have declined the past couple years but the fact remains that he is a 25 year old lefty who can hit 95 mph on the gun. Willis a sturdy six foot four and weighs in at 225 pounds. He has threw at least 200 innings the past 3 seasons and since being called up to the bigs in 2003 he has not missed a start due to injuries. For his career he is 68-54 with an ERA of 3.78. In 2005 he was the runner up for the Cy Young award after winning 22 games and throwing five shutouts. Willis should feel some pressure ease off his shoulder after being THE guy in Florida the past few seasons. He will not be under pressure to win 20 games, he'll fit right into the middle of that rotation.
Not to slight Willis, but Cabrera is the real prize here. Let me just run some stats by you:
He's 24 years old.
In his four full seasons he's missed a total of 15 games.
Over his four full seasons he's averaging 31.5 HR, 115 RBI and was hitting at a .313 average.
Against left-handed pitching his on base percentage was .487. Unreal.
In 2007 he hit .364 against lefties and .309 against righties.
In 2007 he was 8th in the NL in BAVG, 7th in OBP, 8th in slugging, 5th in HR, 9th in hits, 5th in total bases, 3rd in RBI, 3rd in intentional walks, etc.
In 2007 he hit .471 with the bases loaded.
In 2007 he hit .378 with runners in scoring position.
I could go on and on gushing about this guy. The scary part here is that the Tigers are getting him before he even hits his prime. He should be very good for at least the next ten years. He's not the next Juan Gonzalez.
Some have pointed to how he is getting too out of shape (fat) to play third base. There was a report out earlier today that said he had already lost 15 pounds since the season ended. One of his best friends is Tigers first baseman Carlos Guillen.
Just think about this: Where Chad Durbin and Andrew Miller started last year, the Tigers will now have Dontrelle Willis. Where Brandon Inge and Timo Perez hit last year, Miguel Cabrera will hit in 2007.
There will be plenty more on this space about the trade and about how the Tigers are an unstoppable force that will crush anything in their path later. For now, the Tigers projected rotation and lineup.
2008 Pitching Rotation:
Justin Verlander
Dontrelle Willis
Jeremy Bonderman
Kenny Rogers
Nate Robertson
2008 Starting Lineup
Curtis Granderson - CF
Placido Polanco - 2B
Miguel Cabrera - 3B
Magglio Ordonez - RF
Gary Sheffield - DH
Carlos Guillen - 1B
Edgar Renteria - SS
Ivan Rodriguez - C
Jacque Jones/Marcus Thames - LF
Yikes.